"What is my favorite BBQ recipe?"  That is a question I have been asked more times than I can remember, and something I cannot answer for sure. Mainly because I have been on a quest to find the perfect BBQ recipe for 40 to 50 years and haven't found it yet, and knowing me I never will! Saying all that, my favorite cuisine is Asian and my favorite protein is duck (domestic or wild). So, many years ago I decided to combine all of my passions (Asian/duck/BBQ) into this Szechuan Smoked Duck recipe!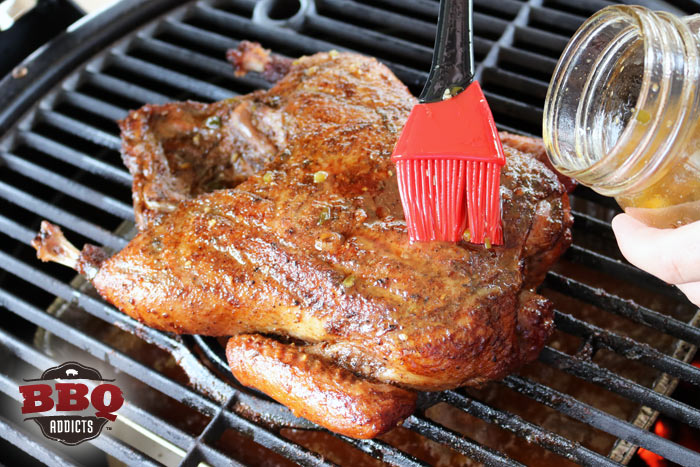 This Szechuan Smoked Duck recipe is from my book Paul Kirk's Championship Barbecue, which was first published in 2004 and is currently in its 18th printing.  I also like to serve a Raspberry Habanero BBQ sauce alongside this duck recipe.  That bbq sauce recipe is not in my cookbook, but I have included it below.  Enjoy!
Szechuan Smoked Duck
1-4 to 5 pound duck, trimmed of extra fat and skin
1/2 cup toasted sesame oil
1 batch Szechuan Rub (recipe follows)
1 batch Picante Beer Marinade (recipe follows)
Rinse the duck inside and out under cold running water, removing the giblets and neck. Pat dry with paper towels.
Rub the duck inside and out with the sesame oil, then season evenly with the Szechuan Rub inside and out to taste; remember this dish is spicy.
Prepare an indirect fire. Place the duck on the pit breast side down, cover and cook at 230º to 250º degrees F for 2 hours.
Turn and baste the duck with the Picante Beer Marinade. Continue to cook, basting every 30 minutes, until an instant read thermometer inserted into the breast and thigh, away from the bone, registers 165º degrees F (about 4 hours total).
Let rest for 15 minutes before carving. Serves 4 to 6.
Szechuan Rub
1/4 cup firmly packed dark brown sugar
2 tablespoons Szechuan peppercorn salt, (recipe follows)
1 tablespoon garlic salt
1 tablespoon onion salt
2 tablespoons Hungarian paprika
1 teaspoon ground ginger
1 teaspoon Chinese dry mustard
1 teaspoon cayenne
1/2 teaspoon star anise
To make the rub combine all of the ingredients in a small bowl and blend well.
Szechuan Peppercorn Salt
1/4 cup coarse kosher salt
1 tablespoon Szechuan peppercorns
2 teaspoons Chinese 5 spice powder
Heat a small heavy dry skillet over medium heat until it is hot.
Add the salt, peppercorn and 5 spice powder and dry-roast the mixture, stirring and shaking constantly, until the mixture turns very dark, but don't let it burn!
Pour the mixture into a small bowl to keep it from darkening even more in the still-hot pan.
Remove and discard the peppercorns.  Store the seasoned salt in an airtight container in a cool dark place for up to a year.  Makes about 1/4 cup.
Picante Beer Marinade
1-12 ounce can premium beer, allow to go flat
1/2 cup canola oil
1/2 cup thinly sliced green onions (green and white parts)
1/4 cup soy sauce
2 tablespoons seeded and minced serrano chiles
2 tablespoons granulated cane sugar
4 cloves garlic, pressed
1 teaspoon kosher salt
1/2 teaspoon cayenne
Combine all of the ingredients in a medium-sized nonreactive bowl and blend well.  Makes about 2 1/2 cups.
Raspberry Habanero BBQ Sauce
1 cup Hoisin sauce
1 cup Seedless Raspberry Jelly or Jam
2 tablespoons soy sauce
1/2 to 1 teaspoon Habanero powder
Combine all of the ingredients in a small sauce pan over medium heat.
Stir constantly until the jelly has melted and the sauce has combined, about 8 to 10 minutes.  Makes about 2+ cups.
Paul Kirk is Kansas City's Baron of Barbecue.  He's won over 575 cooking and barbecue awards (including 7 World Barbecue Championships), authored 12 barbecue cookbooks, was a founding member of the Kansas City Barbeque Society, and a 2015 inductee into the Barbecue Hall of Fame.