This post clearly doesn't fall under the BBQ flag, but we're posting it anyway because it can be paired with your BBQ quite nicely. If you've got a pork butt or a brisket on the smoker all day and your guests are demanding food at 2 o'clock in the afternoon, here is your solution. Tired of hot dogs and ham sandwiches while you're camping? Well look no further because we have the best camping recipe there is. It's quick and easy and much much better than a ham and cheese sandwich with Doritos smashed in it (wait, I like those…).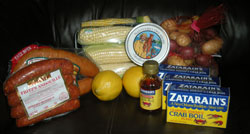 So there are a lot of shrimp boil recipes floating around that are just bland in my opinion. I like my food spicy so I like to add some extra spark to some of the other recipes you'll find. Since I was on our bi-annual men in the woods with guns, chainsaws, beer, and food weekend I'll give you the method of preparing the delicious feast so you can cook it in about 30 minutes from start to finish. We're big-time eaters so this served four of us, but we almost died trying. With normal human beings this probably serves six to eight. Here's what you'll need…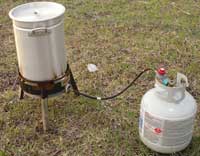 1 Bayou Classic Shrimp Boiler with Basket
1 propane tank
1 pair of cooking gloves
1 long spoon/spatula/stirring utensil
3-4 lbs large shrimp
1 package andouille sausage
1 package hot Italian sausage (can substitute a regular smoked Italian if you wish)
12 red new potatoes
4 ears of corn
4 lemons
3 boxes Zatarain's Crab Boil (3 oz)
1 bottle Zatarain's Liquid Crab Boil
1 can Nantucket Off-Shore Shellfish Boil
1 bottle of cocktail sauce
And to make it easy for the camping edition, you'll need these items…
4 one gallon Zip Lock bags
1 ice chest
1 big newspaper
43 beers
The evening before you leave on your camping expedition, pack up your guns, ammo, chainsaws, explosives, fishing equipment and your cooking gear first because that stuff is really more important than eating. If you forget the food, you can always hunt things. Or chainsaw something. Once that is done, take your sausages and slice them into 1 inch wide chunks and place them in a zip lock. Clean the potatoes and shuck the corn and put them in a zip locks. Quarter the lemons and…put them in a zip lock (no more zip locks…really). The morning of the trip put them on ice and head for the hills.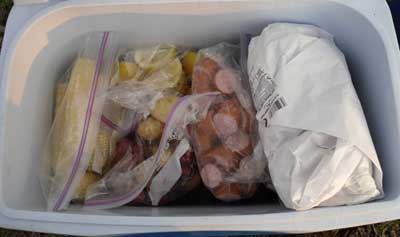 Upon arrival at your favorite camping spot, unload your guns, ammo, chainsaws, and explosives. Open a beer and proceed to blow things up until you are nearing the point of starvation. Now it's time to get things going. Open beer. Remove the basket and fill your 30 quart pot up to the fill line (about half) with drinkable water. Dump in the 3 bags of Zatarain's, a couple pinches of the Nantucket Shellfish Boil, a third of the liquid crab boil, and all of the lemon wedges. Bring to a rolling boil. Open beer.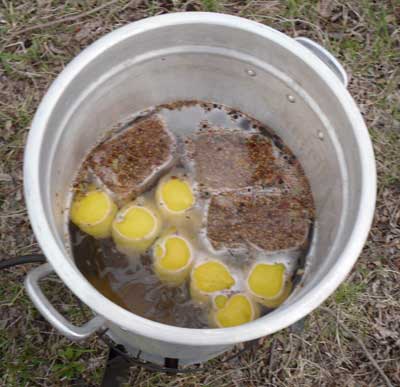 Once you achieve a rolling boil, dump in your potatoes and sausage (use your gloves, the lid is hot as hell). Boil the sausage and potatoes for 20 minutes. Open beer. At the 20 minute mark, dump in your corn and boil for another 10 minutes. At that time, dump the shrimp in and stir. Boil 3-4 minutes until shrimp are pink.
Everything is done! Open beer. Spread out some newspaper and dump everything in a big pile (get ready to catch rolling potatoes when you dump it, we always lose a couple). Chow down!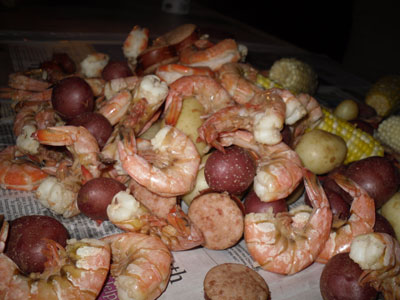 If you would like to turn it into a crab boil/shrimp boil, just toss in your crab after the first 10 minutes of cooking!