Cooking up a barbecue feast for your friends and family can (and will) be an all day affair. Depending on the size of your cut, briskets and pork butts can take every bit of 18 hours to slow smoke to perfection. As much as I like starving myself all day in anticipation of the gluttony that's soon to come, my willpower tends to falter somewhere around the noon hour. Since the smoker is already chugging away, there's no need to power up the oven for that well deserved mid-day snack. Instead, I prefer to toss in a few stuffed jalapeno peppers…especially the ones dubbed "Atomic Buffalo Turds"!!!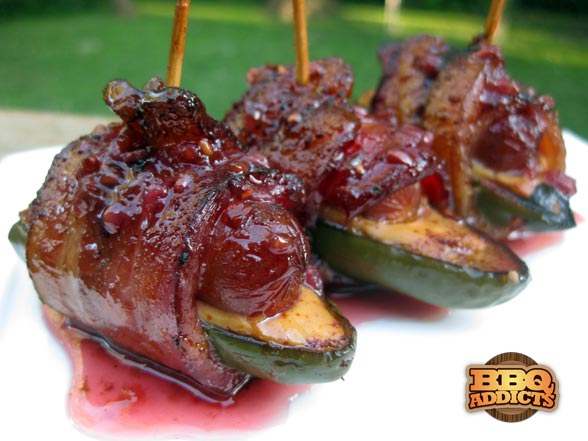 These smokey treats are really easy to prepare, and you may even have most of the ingredients already hanging out in your fridge:
12 fresh jalapeno peppers
12 slices of bacon
24 little smokies
1 package of cream cheese (room temperature)
2 tsp paprika
1 tsp cayenne pepper
Smokey Kansas City All-Purpose Barbecue Seasoning
To start the construction of the atomic buffalo turds, you'll first want to wash and trim the jalapeno peppers. I highly recommend wearing food prep gloves during the trimming portion to keep the jalapeno juices from soaking into your skin, so proceed with caution if you choose not to heed my advice. Trimming these guys is a relatively simple task. Simply chop the stem off and slice the pepper lengthwise to expose the seeds and vein. Using a spoon, scrape out the white vein and rinse under water to wash away the seeds. The cream cheese will ultimately counteract the burn from the peppers, so leave a good amount of the inner membrane in tact if you want to feel the heat.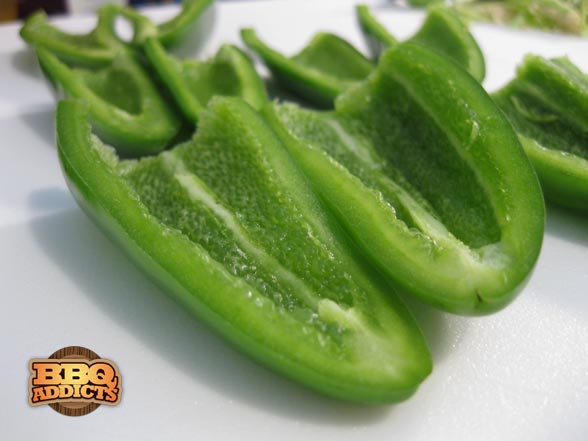 In a mixing bowl, combine the cream cheese, paprika and cayenne pepper. Using a butter knife, or a pastry bag, fill each jalapeno half with a generous portion of the cream cheese mixture.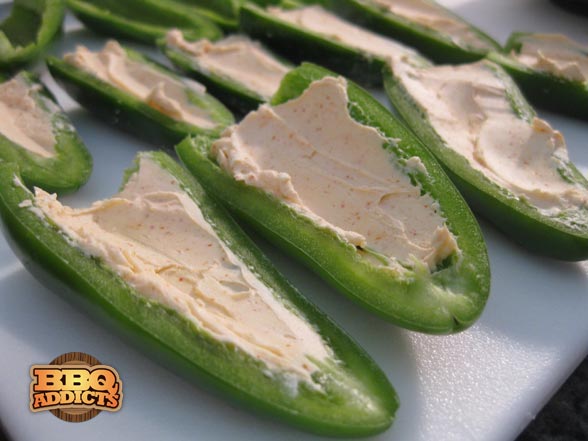 Top each one of the jalapeno "boats" with a little smokey.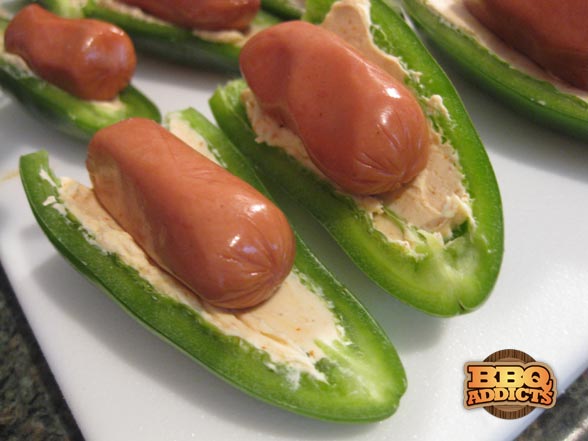 Wrap each of the little smokey topped jalapenos with a half slice of bacon, making sure that the seam is directly on top of the little smokey. Secure the wrap by inserting a toothpick straight down through the overlapping edges of the bacon all the way through the little smokey. Stop just short of going through the pepper though, that way the cream cheese doesn't leak out through the hole.
Next is to season each of the atomic buffalo turds with our Smokey Kansas City All-Purpose Barbecue Seasoning. If you're the do-it-yourself type, a nice blend of brown sugar and cayenne pepper works great on these bad boys as well.
Cooking the atomic buffalo turds is a matter of getting the bacon done to your liking. My preference is smoke at 250 degrees for about an hour and a half. At this point the bacon isn't overly crispy, but it's definitely cooked enough to be bite through. If you prefer a crispier bacon, then I'd suggest kicking the temperature up to 300 degrees for about an hour. You'll want to keep a close eye on the peppers though. If they overcook, then they'll loose their stability and your turds will spill out all over your smoker.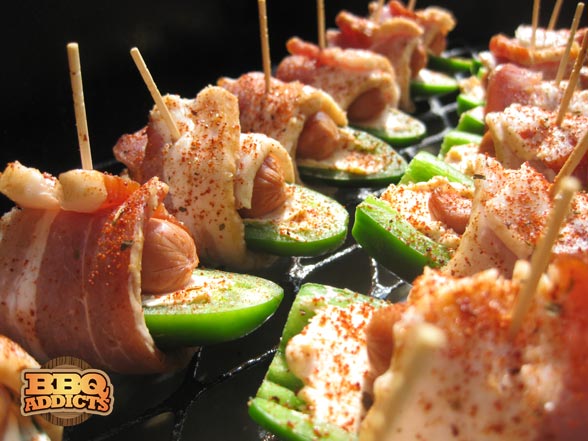 Once your atomic buffalo turds are cooked to your liking, remove them from the grill to cool down a bit before serving. Top them off with your favorite BBQ sauce before serving. I prefer to go with a sweeter sauce to compliment spice of the hot peppers. This particular batch was basted with Blues Hog Original Barbecue Sauce cut with a little cran-grape juice. The juice helps loosen up the thick sauce, and it also layers in a nice bright fruity flavor that goes well with the spice of the peppers. A spoonful of sauce on each turd and you can guarantee these tasty treats will disappear in no time flat!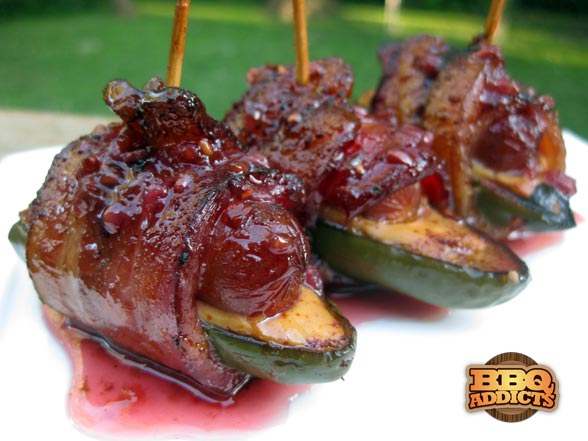 Items featured in this post contain affiliate links.  This means that at no extra cost to you, we may receive a small commission if you choose to click through and make a purchase.  Programs like these help us provide you with high quality content for free.