Now that your arteries are 80% sludge from feasting on Bacon Explosion, it's time we whip your butt back into shape with Texas Caviar recipe.  Don't worry, we've still got plenty of porkalicious recipes up our sleeves, but we need you alive to enjoy them.  Just consider this to be a quick rehab session before your next porky relapse.  And what's better therapy than copious amounts of garlic, onions, and peppers!!!
It's no surprise that Texas Caviar draws it's roots from the south, which is exactly the problem I have with it.  It's nothing personal, but being born and raised in Kansas City has instilled within me a deep love and pride for all things Midwest.  So you can see why eating something called Texas Caviar just doesn't settle well.  Luckily, there's an easy solution to this problem…toss out the iconic Texas ingredient and replace it with something a little more Midwestern.  A true authentic KC barbecue meal is not complete without a side of pit beans, so we'll be swapping out those traditional black-eyed peas in favor of a hearty dose of white beans.
Texas Kansas City Caviar
1 Can Yellow Corn
1 Can White Corn
1 Can Black Beans
1 Can White Beans
2 Large Tomatoes
2 Medium Green Peppers
1/2 Medium White Onion
6 Green Onions
4 Cloves Garlic
2 Jalapeno Peppers
1/2 Bunch Fresh Cilantro
1 Cup Kraft Zesty Italian Dressing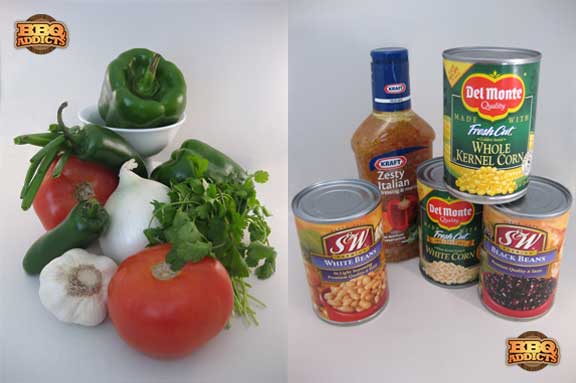 Thoroughly drain and rinse the corn and beans and place in a large bowl.
Dice the tomatoes, white onion, green peppers, and green onions and add to the bowl. Normally I use the largest chef's knife I can find to do any type chopping, but this time around I decided to try out our Kitchen Aid Food Processor.  I was a bit skeptical at first, but it turns out I was able to chop everything in about half the time. The only problem I had was with the tomatoes, so I'd suggest sticking with the knife for those guys.
Use a garlic press to smash the cloves of garlic, then add to the bowl.
Cut the jalapeno peppers in half lengthwise and remove the seeds and vein.  Finely mince the remaining pepper flesh and add to the bowl. The white vein in the center of the pepper is where the heat is contained, so leave more of it if you want your caviar to have a kick.  Also, if you don't want your hands smelling like peppers for a couple days, then you should use food safe gloves during this step.  The oils from the jalapenos are very potent and will quickly soak into the skin on your hands.  Even if you are wearing gloves, take extra caution during the step, especially if you are a contacts wearer…trust me!
Finely mince the cilantro and add to the bowl. This is another ingredient that didn't work well with the Kitchen Aid Food Chopper, so stick with the knife here too.  Also feel free to vary the cilantro level to fit your own personal taste.  Just make sure that you are using fresh leaf cilantro from the produce department and not the dried stuff you find in the spice aisle.
Pour the Zesty Italian Dressing over the vegetable mixture and stir until the contents of the bowl are evenly distributed.
You can eat the caviar immediately, but the flavors won't fully meld together until it's had a chance to rest.  I always prepare the caviar the day before I plan to use it and let it sit in the fridge overnight.
Serve with Tostitos Scoops and enjoy!
This Texas caviar recipe is extremely simple and wins the crowd over every time.  In fact, I think I even caught one of my co-workers licking the empty bowl the last time I took it into the office.  The big bold flavors hit your palate hard.  For you Texans out there, just substitute the can of white beans for a can of black-eyed peas to restore your sense of Southern Pride.