Recently we got our hands on a Maverick Laser Surface Thermometer to test out and provide our thoughts. Of course we wouldn't want to dangle a brand new piece of equipment in front of our readers without giving you a chance to win one, so we also have another thermometer that we'll send off to one lucky reader! Keep reading and we'll let you know how you can get your hands on one of these guys.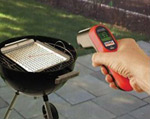 Out of the box the thermometer has a good feel to it. It's got some weight, but I have to admit that the plastic casing makes me weary of it surviving a drop. A Wii style wrist band would have been a good addition for those with slippery finger syndrome. Overall, the thermometer performs well and provides fast and accurate readings. Keep in mind that this little guy take surface temperature readings as opposed to air temperature readings. Because of this, I would most recommend this tool for somebody that does more grilling than smoking.
The Maverick Laser Surface Thermometer works great on a pizza stone, and is definitely the way to go if you're looking to fine tune your temperature control for burgers and steaks. This little guy helped me located the hot spots on my Weber Kettle within seconds of opening the lid. At the time of writing this article, I've only had the thermometer for a couple of weeks. So at this point I can't speak to it's durability over repeated us, but after multiple cooking sessions it's still working exactly the same as it was when I took it out of the package. All in all, this is nice piece of equipment that I feel comfortable recommending to a griller that's looking to establish better control over their surface temperatures.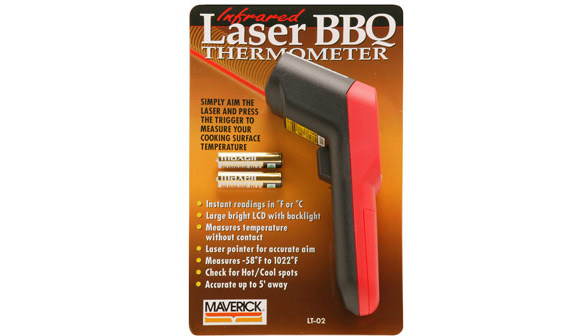 So, does this sound like a piece of equipment that you need to have? If so, just leave us a comment below letting us know your thoughts on the laser thermometer. We'll randomly select one lucky person to receive a free Maverick Laser Surface Thermometer. UPDATE: Contest is now closed.